The complex, intricate patterns in the Spanish Caceres pattern works well with the plain white tile and blue trim. The palette is ideal for a bath and complements the terracotta Spanish Paver flooring. The blue trim is an excellent design example of how trim or molding can be used to bring attention and highlight a design element that you want to be noticed, such as the border tile or mural.
The border tiles were used around the vanity backsplash and as an accent strip around the tub to maintain the same theme and to add interest. Here's a few photos of the vanity and bath installations.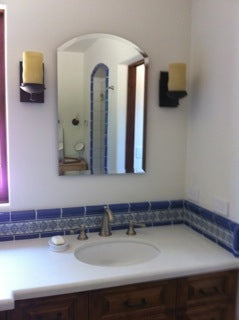 Bathroom Vanity uses 3x6 Caceres as Backsplash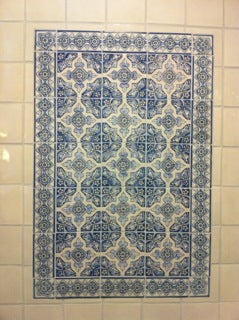 Bathroom Vanity uses 3x6 Caceres as Backsplash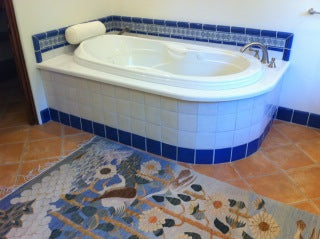 3x6 Caceres tiles are used around the tub
Ceramic Tile Design Tip
Ceramic Spanish tiles
have a wide range of uses and benefits. Traditionally, these types of designs were used as wainscoting. Today, they are still used as full wall coverings, but are also great for backsplashes, counter tops, showers, bath accents, swimming pools, fountains, windows, stair risers, and floor accent tiles.
In addition to their wide variety of uses, Spanish tiles provide more versatility and value than any other material. They are color permanent and abrasion resistant. With so many colors, patterns, and tile sizes to choose from, ceramic tile gives you the capability to create any design element you desire.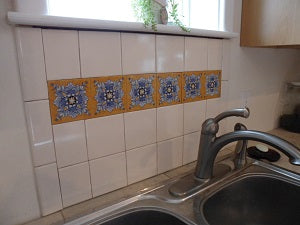 Avente offers a full collection of Spanish tile designs that are at the forefront of their class. Our ceramic tile line is stylistically superior and like no other you will find.
You can find additional Spanish ceramic tile design ideas for kitchen backsplashes, floors, and walls by browsing through dozens of our Ceramic Tile Design Ideas portfolio page. If you're on Pinterest, then make sure to be our Pin-Pal by checking out our Pinterest boards.
Avente Tile thanks our customer for their business and sharing so many wonderful pictures of their bathroom installation. The bathroom has a calm, restful feel and the design is gorgeous.