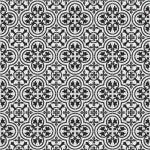 Get 33% Off our entire
Classic Collection
of cement tiles! This special is limited to stock on-hand, so don't delay! No coupon is required. Just place your order online, now thorugh November 2009!
>> Visit our site: See the Classic Collection!
>> View offer details!


Our new line of cement tile in the Classic Collection, includes this easy-to-use timeless pattern! Dress up your bath in classy black and white with this design in a color scheme that wears well and one you won't become weary of!
>> Read More: Cluny Bathroom Design Idea!
>> Visit our site: See all 7 Classic Designs!

When using cement tile in small areas or areas of irregular shape, run the patterned design all the way to the edge of the room as shown in the Cluny Bathroom Design Idea.

For larger, symmetrical rooms, consider using a border or solid color cement tile along the edge. Read more about when to use borders with cement tile on our blog!

>> Visit our blog: When to Use Borders with Cement Tile!