Cuban Heritage Design 110 3B 8" x 8" Handmade Cement Tile
Pin It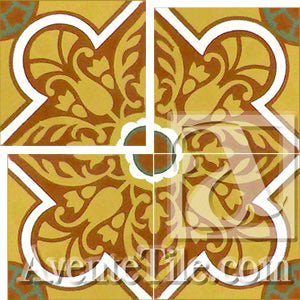 Colors Used in This Cement Tile Pattern
Cement Tile Product Details
Handmade cement tile.
Original Cuban Tile patterns.
Polished finish.
Stocked for quick ship.
Call to confirm inventory.
Allow 7 - 10 days for delivery.
Seal with a Penetrating Sealer.

Price: $7.98 per tile ($ US)

Item: CH110-3B
Dimensions: 8" x 8" x 5/8"

Custom Cement Tile Options
Plain tiles in a variety of formats are available in matching or complimentary colors. For available formats, options, and costs use the:
Related Cement Tile Files
Files will open a new window or tab.
Related Cement Tile Design Ideas
Achieve Symmetry With Cuban Heritage Cement Tile — Implementing Cuban Heritage cement tile in your next remodeling project or new construction would not only bring a designer's touch to any space, but it would also connect the colors of the room and furniture for a cohesive look.
Cuban Heritage Design 110 3B Tile Grouping
Pin It
Cuban Heritage Design 110 3B Tile Grouping