Traditional Melilla Cement Tile 8" x 8" Cement Tile | Encaustic Cement Tile
Pin It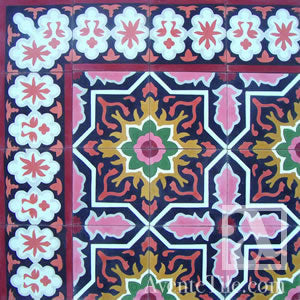 Colors Used in This Cement Tile Pattern
Cement Tile Product Details
Handmade encaustic cement tile.
Polished or unpolished finish available.
Made to order. 8-10 weeks for delivery.
Sample stock may be available.
Customize with Heritage Color Palette.
Allow 3 weeks for strike-off samples.
See Heritage Price List for options.
Seal with a penetrating Sealer.
A 20% surcharge is added to this item if you order less than 100 sq. ft.
Price: $7.16 per tile ($ US)
Unpolished finish in size and colors shown.
Item: AC2588
Dimensions: 8" x 8" x 5/8"
Group of 16 tiles shown.
Cement Tile Technical Info, Custom Design Options & Prices
Plain tiles in a variety of formats or shapes are available in matching or complimentary colors. Patterned Colors can can be customized or changed from what is shown here using this line's color palette. Additional information on available formats, patterns, color options, and prices are below.
Cement Tile Sealing, Installation, Maintenance & Care Guidelines
Related Cement Tile Design Ideas
Restaurant's Cement Tile Rug Adds Depth, Interest — A beautiful cement tile design is used in this dining room in place of an area rug. Not only does the rug add interest to the space, its warm yellow tones make the room seem bright and fresh.
Melilla Cement Tile Rendering: An Alternate Colorway — Here's a rendering of an alternate colorway for the Traditional Melilla pattern. Colors in existing cement tile patterns can be easily substituted for about the same cost. Make sure to use the correct color palette. Use the Heritage Palette for Traditional Cement Tile line.
Traditional Melilla Cement Tile 8" x 8" Tile Grouping
Pin It
Traditional Melilla Cement Tile 8" x 8" Tile Grouping