Encaustic Cement Tile
Posted by William Buyok on
Considering encaustic cement tiles for your next project? Chances are you've heard a lot about them and seen them in a stunning floor or wall installation. Curious if they are the right choice for your application? Confused on what makes encaustic cement tiles different from concrete tiles or cement tiles? Today, I will remove the mystery and confusion about the differences between encaustic cement tiles, cement tiles and concrete tiles 
Let me begin by saying there is no such thing as encaustic cement tiles. There are encaustic tiles and concrete tiles (which are made of cement). The confusion probably occurred because both tiles may look similar when installed. To this day, manufacturers, retailers, sales people and the industry constantly refer to cement tiles as encaustic cement tiles. So, if you can't beat 'em, join 'em.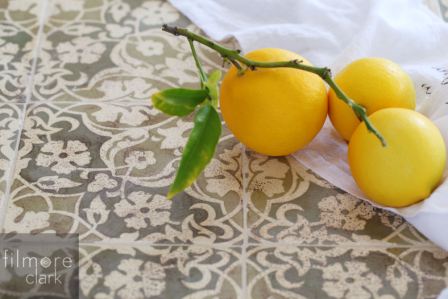 Examples of encaustic tile made in the US. Image courtesy of
Filmore Clark
.
However, it's important to understand the difference between the two tiles. Make sure you know what an encaustic tile is and what a cement tile is. As I mentioned earlier, the names get confused by everyone, even by tile manufactures and tile vendors. Encaustic tile is generally frost-proof and can be used in any outdoor application. Most cement tiles that are hydraulically pressed can't be used in locations subjected to hard freezes and is more commonly found in Mediterranean or Tropical climates. However, most pre-cast concrete tiles are acceptable for frosty environments.
What are Encaustic Tiles?
Encaustic tiles
are made of two or more colors of clay which are inlaid together to create the pattern. Then the tiles are fired in a kiln. Encaustic tiles have been around since medieval times; however, encaustic tile as an art form reached its apex in the mid 1800s when renowned tile maker,
Minton's Ltd
, became the supplier of durable, decorative finishes for walls and floors in churches, public buildings, and grand palaces in England and Europe. Even the U.S. Capitol sports a Minton encaustic tile floor.
A Minton encaustic tile floor in an office at the United States Capitol.
Image from Wikipedia
To this day, England has the most prevalent encaustic tile installations because Minton tile is an English company. When you look at an encaustic tile installation compared to a cement tile installation, you can start to see where and how the confusion began. The two installations look very much alike with their colorful, segmented sections. In many respects, the colorful patterns of both installations do indeed look similar. The real difference lies in how the tile is made. And to that end, how the tile will perform.
A detailed pattern in rich colors creates a cement tile rug
Avente Tile does not sell encaustic tile. But, a fellow pattern addict and lover of artisan tile, Lee Nicholson, was kind enough to share some photos of encaustic tiles. You can visit her website to view the best in American art tile here.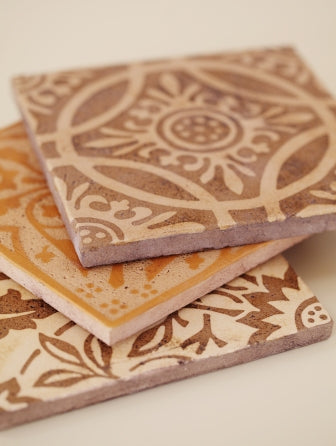 Examples of encaustic tile made in the US
Image courtesy of
Filmore Clark
What are Cement Tiles?
Cement tiles
are made of concrete and the color in the pattern comes from mineral pigments that are mixed and poured into a mold. The mold is removed and concrete fills the rest of the tile body. The tile is removed from the body frame (usually a square or rectangle) and the tile is hydraulically pressed. The tile is then placed in a water bath and allowed to cure to obtain its strength. This method was developed in the mid-19th century and hasn't changed much since then. To better understand how cement tiles are made, watch our video
How Cement Tiles are Made
.
Colorful cement tile on an outside patio
More accurately, cement tiles should be called concrete tiles because cement is one of the materials used to make concrete. Concrete consists of three basic components: water, aggregate (rock, sand, or gravel) and Portland cement. Cement, usually in powder form, acts as a binding agent when mixed with water and aggregate. Encaustic cement tiles are not encaustic tiles nor are they made of cement. They are concrete tiles. Who am I to split hairs? Call them by any of these names, just make sure you and the sales person understand what you are looking for and how they will be used. Some concrete tiles, pre-cast concrete tiles, are freeze/thaw rated. However, hydraulically pressed cement tiles or encaustic cement tiles should not be used in frosty environments. Encaustic tiles are made of high-fired, unglazed bisque and will hold up fine when subjected to hard freezes.
There are two other posts that help explain the Difference between Encaustic and Cement tile by Zoe Voigt on Tile Style and Cuban tile isn't encaustic, it's cement. It's not really cement either, it's concrete by Paul Anater on Kitchen and Residential Design.
Avente Tile's extensive knowledge and love for encaustic cement tiles is unparalled
While we don't offer encaustic tiles, you'll find Avente Tile has one of the most comprehensive collections of concrete tiles anywhere. If you love patterned encaustic cement tiles, plain cement tiles, or pre-cast concrete tiles, we can provide the guidance you need for a successful project. Our knowledge of the product is based on a love of the product, personal experience, and over a decade of working with satisfied customers, including designers and architects. We can help create unique, custom designs or work to find solutions using available inventory. We also have pre-cast concrete tile that can be used in frosty environments and relief cement tiles for walls. Whether you are looking for encaustic cement tiles, concrete tiles, or cement tiles, I'm sure we can help!
I hope the I've cleared the air of some confusion. If you are considering encaustic cement tiles for your next project, then I encourage you to download our free Cement Tile Buying Guide. You'll be glad you did!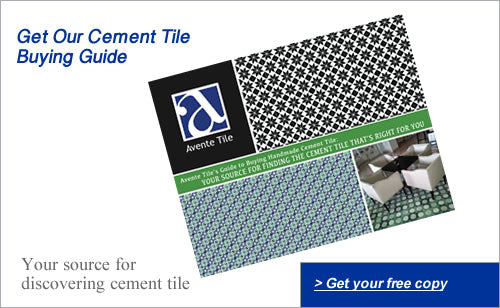 ---
Share this post
---
---