A Salute to The Tile Heritage Foundation for Giving Tuesday
Posted by William Buyok on
Avente Tile supports The Tile Heritage Foundation, with a portion of each order donated to the organization.  If you've purchased tiles from Avente Tile, then you have also made possible Avente's long-standing support for this cherished organization. Thanks to the directors, staff, and volunteers.  Today, on Giving Tuesday, consider donating to help support the efforts of this organization to preserve our tile heritage.  Here is a brief history of this organization. You'll discover some of the great services they provide and understand why they are worthy of additional support.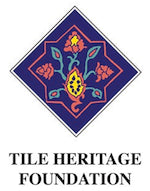 Founded in 1987 as a non-profit charitable organization, the Tile Heritage Foundation is dedicated to promoting an awareness and appreciation of ceramic surfaces in the United States The foundation provides historical perspective regarding all ceramic surfacing materials, both past, and present.  Additionally, they tirelessly educate the general public about the rich, varied history of tile.  The organization has become a major advocate in the preservation of existing installations of rare and unusual ceramic surfaces. You'll also find them promoting contemporary tile installations, too.
The Preservation of All Things Tile
Cement tile enthusiasts should not be concerned with the word "ceramic" in the foundation's literature because in this case, it encompasses all tiles made from variations of clay, whether fired or dried.  Cement tile lovers can also purchase "La Cubana", a 41-page full-color book of historic cement tile designs made in Cuba by a large factory founded in 1903. 
As mentioned previously, The Tile Heritage Foundation promotes an awareness and appreciation of ceramic surfaces in the United States. The Foundation provides consultation and research, leads preservation efforts and shares information about tile. The Tile Heritage library and research facility have a wealth of knowledge including books and slides about ceramic tile surfaces. They provide historical perspective and depth on all ceramic surfacing materials and educate the public by sharing tile's rich history. Because of these efforts, the organization now plays a major role in the preservation of rare existing ceramic installations. They promote contemporary tile work as well. 
Tile and our Collective History
Cuban tile. If we don't strive to preserve and record these amazing works of art, we lose so much in the collective history of who we are.
Cuban Tiles found in Old Havana and Camaguey are in disrepair
Photo Courtesy of Aguayo Tile
I occasionally get calls from friends and customers saying they found some amazing tile after removing layers of other surface coverings during a remodel of their early 1900's home. These moments warm my heart. I am reassured that people do want to preserve well-crafted design and they value the history of a very special place. They want to help document, record and preserve the collective history that is ours. When I can't identify that tile, where do I send them? The Tile Heritage Foundation, of course. 
Tile Identification Services
The Tile Heritage Foundation offers tile identification services to the public at no charge. Pretty darn amazing. Who else offers such a great service for free? I've sent many architects and designers their way. To take advantage of this service, Simply email foundation@tileheritage.org with clear, images of individual tiles or tile installations. Include other relevant information like site, city, state, size, date (approximate), architect/designer if known. If the experts at Tile Heritage are not able to identify the work, your email will be forwarded to others who are likely to know.
I could go on about the great folks at the THF; but, just visit www.tileheritage.org and discover what a great resource they are. Most importantly, if you can, I encourage you to join Avente and support this great organization with a donation on Giving Tuesday!
---
Share this post
---
---