Spanish Floor Tile
Posted by William Buyok on
Looking for a high quality Spanish floor tile? Our handmade Rustic Cement Tile offer the same look that you love in Spanish floor tile with a rustic elegance you won't find with a traditionally manufactured bisque tile. Pair these hand-crafted concrete tiles with our hand-painted Spanish decorative tiles and you've got a winning, custom look. The options are limitless for you to create authentic, Spanish elegance and rustic, Old World charm.
A Better Spanish Floor Tile
Without a doubt, Spanish floor tile provide rustic elegance and Old World charm. Variation in color and shape provide a warm, rustic look that is truly timeless. It's elegance you won't find with a traditionally manufactured bisque. Here are a few of the benefits our Spanish floor tile or Rustic Cement Tile offer:
A handmade look with slight variation in color and shape
Color variations from tile to tile
Large variety of formats and textures
Made in the USA
True "through body" color
You can't scratch, cut or remove the surface color layer
Rated for freeze/thaw cycles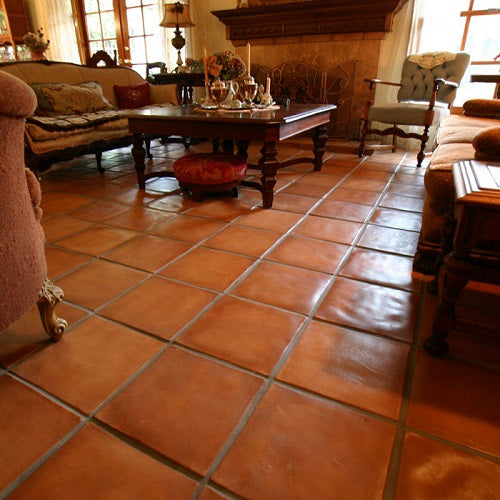 Create the look of large format Spanish floor tile with cement tile. Shown: 12"x12" Cotto Gold.
Further, by using our Spanish floor tiles, you'll feel good knowing your choice is also good for the environment. Made in the USA, this tile collection is produced using a high percentage of locally sourced materials, which minimizes transportation impact. Moreover, the cement used for producing these tiles is supplied by an Energy Star Certified factory. Being made of concrete, these tiles are never fired so the carbon footprint on the environment is further minimized.
Rustic cement tiles in Classic Colors have the time-worn look of vintage Spanish floor tile.
Find the Spanish Floor Tile that Works for You
These Spanish Floor Tile colors have the rich look of classic bisque or fired clay. However, you get the benefit of cement. Cement provides durability and strength, a broader color palette, and sizes and shapes that can be adapted to any décor and environment. These colors allow you to get creative with tiles in a whole new way. And, just because we call them Spanish floor tiles doesn't mean they can't be used on the wall, too. Find the Spanish floor tile look that's right for you.
Our Rustic Cement Tiles provide the look you want from a Spanish floor tile with so much more flexibility in the design process. Don't forget these tiles are handmade and you need to expect some variation in both size, shape, and color. In fact, with so many sizes, shapes, and colors to choose from, this is one tile you can't get enough of! Our rustic cement tiles can be used on floors, walls and both interior and exterior locations - even those subjected to freeze/thaw cycles.
Spanish floor tile in Arabesque shapes paired with Barcelona Spanish wall tile. Shown: Cordova in Cotto Gold.
Mix Spanish Floor Tile with Decorative Spanish Tile
A few square formats also include clipped corners to accommodate decorative accent tiles. Our Malibu Deco Tiles, Barcelona Tiles, Spanish Tiles, or Portuguese Tiles are the perfect choice to pair with any Spanish floor tile. Use any combination of the 6"x6" or 4"x4" formats with 3"x6" listellos, or 1"x1" and 2"x2" dots to make a great looking insets or coordinated backsplash and attention-getting stair risers.
 Cotto Dark Spanish Floor Tile with Spanish Teruel 4"x4" Decorative Accent
Detail of Spanish Teruel 4"x4" Inset
Our Spanish floor tile, called Rustic Cement Tile, come in various square and rectangular formats. All tiles are 3/4"-thick nominal thickness. You'll find square formats from 2"x2" to 16"x16"; and rectangular formats from 2"x4" to 8"x16".
Finally, unlike Spanish tiles or bisque, these tiles are available in 30 colors and an infinite number of blends. The colors are available in two styles: solid or flash. The Rustic Color Palette includes classic bisque colors in terracotta, red and brown that provide a traditional look of clay tile. The Classic style takes its cue from clay bisque that that has been used to make Saltillo tile, brown Spanish tiles, and red clay tiles. For a more contemporary look, choose from our extensive collection of additional colors with the Premium color palette, which includes subtle greys, green, plum, rust and tan.
Spanish floor and decorative tile used on a patio, tiled walk and entry. Shown: 6"x6" Cotto Gold.
How to Buy Spanish Floor Tiles: 1 - 2 - 3
Buying our Rustic Tiles or Spanish floor tiles is as easy as one, two, three. Choosing a color is the most important point. It's a good idea to get several color chips or each color to help get a good idea of the variation and texture that you'll see. Great news! If you want the look of Spanish floor tiles, then we've made your job easy. Select from the four colors that resemble this great fired clay or bisque from Spain.
Follow these three easy steps and you'll be sure to find the right tile for you!
Pick a color. With more than 50 different colors and blends, it's easy to find a color that works with your design. Pick any color from the Rustic Color Palette, or choose from the colors that most closely match traditional Spanish floor tiles below.
Add texture, if you want. Tiles come with a standard smooth finish; but, additional textures are available to create a weathered, antiqued patina. There are four Rustic Cement Tile Textures. Textured finishes do alter the color of the tile. Typically, a textured finish will be lighter in color and exhibit a a wider range of color variation than it's smooth version. Always get a few samples to make sure you like the look prior to placing your full order.

 

| | |
| --- | --- |
| Limestone Texture | Luna Texture |
| Travertine Texture | Smooth Texture |

 

Find a format, size and shape. With more than 20 format and size options, you'll find exactly what you need for your project.

 

 
Tips for Online Ordering and Customization
Because there are so many ways to customize your tile, you'll only find the format in standard or smooth texture for online shopping. We can provide pricing for all other custom blends and textures. Can't find what you are looking for? Need help with a textured sample? Not sure on pricing for a hexagonal format? Just let us know and we can guide you to find the tile you are dreaming about.
Cement Tiles used in an Outdoor Setting Create an intimate atmosphere.  Tile Shown: Rustic 12"x12" in Hermosa Blend.
---
Share this post
---
---